Economy Overview in December
---
On the Global Scene, the World Bank's Global Economic Prospects Report forecasts a slowdown in growth from 2.9% in 2022 to 1.7% in 2023; warns that further shocks could lead to a global recession. January came with a flurry of positive global economic data as the U.S. economy grew at an annualized rate of 2.9% (Q4'22) despite recession fears; as inflation cooled in U.S. (6.5% v. 7.1%), Eurozone (9.2% v.10.19) and UK (10.5% v. 10.79). As expected, the U.S. Fed raised its key interest rate by 25bps, citing possibility of further hikes as they monitor inflation figures. The ECB and BOE maintained their hawkish stance as they both raised interest rates by Sobps with the expectation that higher borrowing costs will douse demand and curb price increases.
On the Domestic Scene, Nigeria's headline inflation declined by 13bps from 21.47% to 21.34% ir December 2022 which is an average annual inflation of 18.77% (v. 16.98% in 2021). Food inflation moderated by 38bps to 23.75% (v. 24.13%) while core inflation rose by 25bps to 18.49% (v. 18.24%). On a MoM basis, inflation also increased to 1.71% (v. 1.39%). We expect inflationary pressure to persist as FX depreciation remains, along with limited supply of naira notes, elevated energy prices and increased spending due to upcoming elections.
Elsewhere, the CBN has extended the deadline for the use of old naira notes by 10 days to February 10% 2023 after approval from the president. The scarcity of new naira notes has created anxiety in the commodities market as trading activities in the country are heavily impacted.
Crude oil price closed the month of January on a flat note as the positive sentiments witnessed earlier in the month from U.S. GDP figure and impressive economic outlook for China were doused by the prospects of further interest rate hikes, stronger dollar and Russian crude flows towards the end of the month. Consequently, crude oil prices closed the month at $85.5/bbl.
| Key Macro Indicators | December 2022 | January 2023 |
| --- | --- | --- |
| Real GDP Growth (%) | 2.25 | 2.25 |
| Average Inflation (%) | 21.47 | 21.34 |
| Oil Production(mbpd) | 1.19 | 1.23 |
| Oil Price($/b) | 85.9 | 85.5 |
| Exchange Rate(N/$) | 461.5 | 461.5 |
| External Reserves($`bn) | 37.0 | 36.9 |
| Monetary Policy Rate(%) | 16.5 | 17.5 |
The Global and Domestic Equity Market
---
The Global stock market closed the month of January on a positive note, for the third consecutive month, with a monthly return of 3.72% (v.8.41% in Dec'22). The strong performance was mainly driven by year-end rally that filtered into the new year, as market activities are fuelled by full-year earnings report. On a YTD basis, sectorial performance was broadly positive.
Going into February, we expect the rally to continue as investors monitor economic data and more earnings report are released.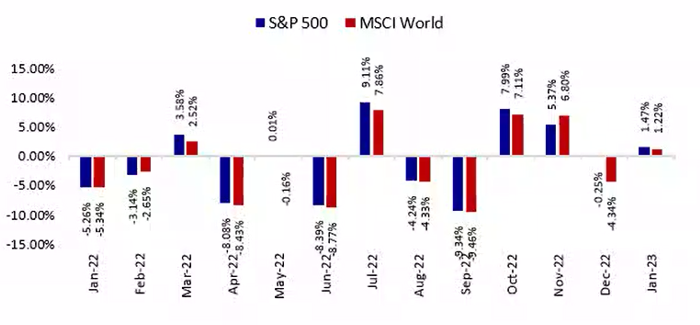 The Domestic Equity Market closed the month of December on a positive note, for the second consecutive month, with a monthly return of 8.41% (v.Sep:-8.72% ) and YTD return of 19.98%. The strong finish was mainly driven by year-end rally and supported by the positive performance of some blue chip stocks. On a YTD basis, sectorial performance was broadly positive with three sectors closing in double digit territory.
In the month of February, we expect to see a mixed reaction to the earnings reports released and anticipate that some investors may to look to book profits.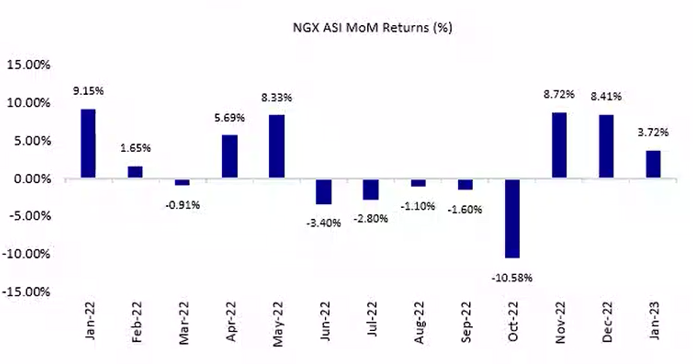 The Nigerian Fixed Income and Eurobond Market
---
In the Eurobond market was dominated by mixed sentiments as investors reacted to a plethora of economic data and monetary authority posturing. Earlier in the month, there were negative sentiments fuelled from Fed minutes where no rate cut was anticipated this year as inflation remained priority. However, sentiments improved as CPI data for December was released and investors were more positive that the Fed will be more dovish, pricing a 25bps rate hike. After FOMC meeting, in line with expectation, the Eurobonds market was more bullish with Nigeria, Angola and Egypt papers trading at higher prices. We saw investors short the Nig 28s and 33s and long 23s and 25s, with corporate Eurobond also gaining traction.
This month, we expect the market to be dominated by bullish sentiments as investors digest full year earnings report and U.S. Fed remain dovish.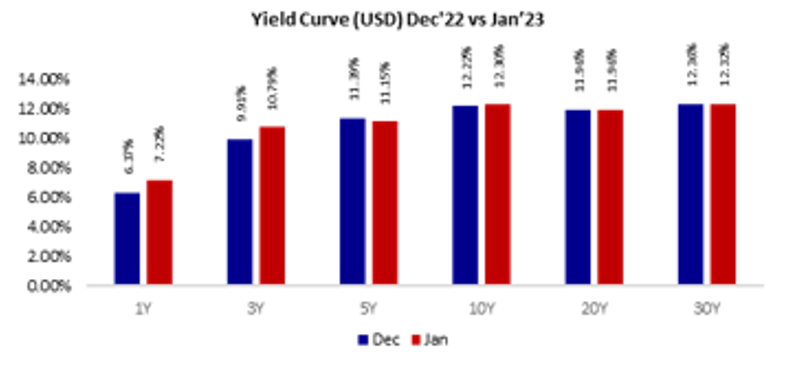 The Nigerian Fixed income market was bullish in January as system liquidity remained elevated hitting N1tr on some days due to inflows from OMO maturities, bond coupon payments and FAAC allocation. At the FGN Bond Auction, the DMO offered four maturities- Feb'28, Apr'32, Apr'37 and Apr'49 with stop rates at 14.00%, 14.90%, 15.80% and 15.90% respectively with the DMO selling N663bn as against initial offer of N360bn across all maturities.
At the last NTB primary auction conducted in January, stop rates declined by 171bps, 253bps and 253bps for the 91, 182-day and 364-day bill to print at 0.29%, 1.80% and 4.78% respectively. The DMO only allocated the N220.5bn on offer as subscription levels hit N1.04tn.
In February, we expect more of the same bullish sentiments even though we are expecting less inflows from coupon payments and OMO maturities compared to last month. That said, we expect yields to remain flat in the absence of any CBN intervention through CRR debits or retail auctions.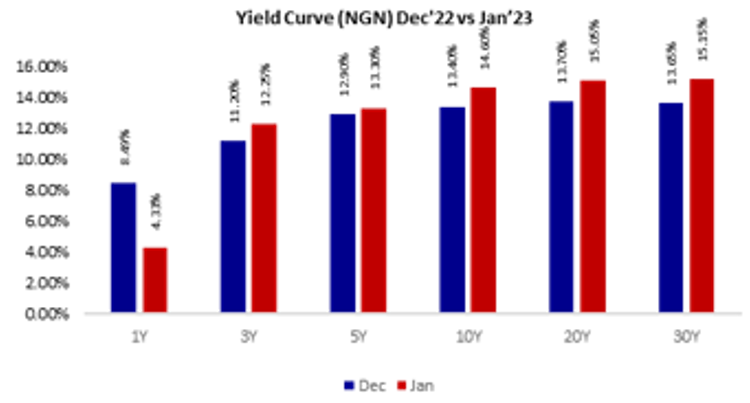 | Security | Rationale |
| --- | --- |
| AXA Mansard Money Market Fund | This enables clients to maximise their funds in the short term, while also positioning their portfolio to benefit from any spike in yields. |
| USD FD | Protects the investor from devaluation of the Naira and exchange rate risk, with a return of c.5% p.a |
| Nigeria 23 | Relatively short tenor to maturity, trading at a discount with a yield of c.7.24%p.a. |
| FIDELITY 26 | The security is relatively liquid, with an attractive yield of c.11% when compared to close dated papers. |