Maiden Edition (March 20, 2019):
The maiden edition had us gasping for more, as our brilliant facilitators and panelists came with the energy and the right perspectives to astound the audience. The event was a never seen before type.
Session I: The role of Artificial Intelligence in Automation
Facilitated by Dr. Bayo Adekanmbi, Chief Transformation Officer at MTN Nigeria and Data Science Nigeria convener
About the Speaker- Bayo Adekanmbi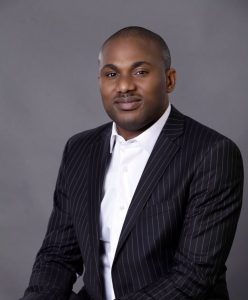 Olubayo is an award-winning business executive with track record of superior performance in conceptualizing and implementing business/commercial/analytical strategy with commendable managerial ability to motivate his team for success. He has broad-based experience in multinational commercial strategy and advanced level analytics.
About the session:
It kicked off with a welcome address by the former Chief Client Officer, Tosin Runsewe and the main speaker's presentation followed. Bayo highlighted the need to evolve with digital transformation as it instrumental in changing all the sectors of the economy. Industrial organizations aren't seeing transformation at the desired speed and they have mixed results. He emphasized on some technologies such as Edge, Cloud, Artificial Intelligence, and Extended Reality (AR/VR/MR) driving the digital transformation for a myriad of industries. Even the Government is not left behind in the digital transformation drive. Various parastatals and bodies have embraced digitalization in the dispensation of their statutory responsibilities.
Bayo acknowledged the huge increase in Entrepreneurship Growth inspired by Technology. The transformation of the Nigerian ecosystem due to Technology being remarkably tremendous is not an understatement.
In his conclusion, he stated that there is still room for enormous growth and a better utilization of the country's digital economic potential, we would not just be recipient of digital technology but also an exporter of innovation and brainpower.
This speaking session was followed by a panel session on Artificial Intelligence with the following participants;
Deji Tunde-Anjous – CEO, AXA Mansard Investment Limited
Femi Aderibigbe – Chief Information officer
Bayo Adesanya – Chief Digital Officer, and
Bayo Adekanmbi – Chief Transformation Officer at MTN Nigeria and Data Science Nigeria convener
Session II: Early days @ AXA Mansard – Taking off
Internally facilitated panel session with the following participants;
Tosin Runsewe- Former Chief Client Officer, AXA Mansard Group
Kunle Ahmed – Chief Executive Officer, AXA Mansard Insurance Plc
Tope Adeniyi – Chief Executive Officer, AXA Mansard Health Insurance Limited
Deji Tunde-Anjous- Chief Executive Officer, AXA Mansard Investment Limited
Dapo Akisanya – Chief Executive Officer, AXA Mansard Pensions Limited
This session had its focus on the early days at AXA Mansard and the journey so far. Moderated by Omosolape Odeniyi, our official compere for Out of the Box, she got the discussion started with some questions/discussion points. The Panellists spoke about the vision, challenges and culture at take-off in 2004.